PaedDr.Dasha Sarah Witzan,PhD.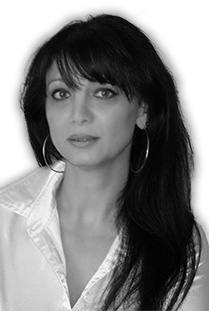 We started our business in 1992 when we opened Daša cosmetics salon at Kmeťkova street in Nitra. We already finished at the Central Health School in Nitra and we provided services in the field of oriental epilating. In 1992, we went through a retraining course in cosmetics in Prague, organized by Artiris company.
Certificates
After obtaining a certificate, we've expanded our business services to hairdressing, cosmetics, pedicure, manicure and makeup artist. At that time, we employed three employees. In 1993, we opened other beauty salons in Bratislava and Košice.
Education
With providing this type of services our clients contacted us with different problems. Often cosmetic problems are the secondary manifestations of a particular disease, but in most cases these are psychic-based problems. Thanks to our medical education, we were able to diagnose, advise and direct the client very accurately. As we have mentioned, skin problems are also manifestations of psychological lability. During the consultations, the client also told us their personal problems. Thanks to professionalism, empathic approach and pro-socialism, our clients trust us and continue to prove confide us. We have always drawn from the hippocratic oath that every medical officer should keep the medical secret, in our case, it was maximum discretion.
Our clients often complained about poor service levels and inappropriate behavior of staff in other beauty salons. These problems have prompted us to work even further and to establish cosmetic facilities that will be at a high professional level with appropriate behavior to clients.
Accreditation
In 1994 we began to study the pedagogy at the University of Constantine the Philosopher in Nitra. After graduation, we requested the Ministry of Education Slovak Republic in Bratislava to issue accreditation for this fields :
cosmetics
pedicurist
makeup artist
manicure and nail design
We opened a private school with the mentined specializations. Courses accredited by the Ministry of Education are realized in different time ranges (depending on the specialization). It is divided into theoretical and practical preparation. The study ends with final examinations, which consist of theoretical and practical part. The theoretical exam consists of a written and oral exam. After the successful completion of the theoretical examinations, the practical test follows. The graduate obtains a certificate of competence in the relevant field.
Outland activities
In 1998, we received an invitation to the USA (Chicago) where we took part in an international competition organized by International Club Evitas on September 15. We have won the first place in the competition – Cosmetics, Make Up, Fashion Photography, Movies, and Modeling.
Here we have gained new experiences and skills. From the professional side, we have confirmed our main principle, which we have applied in our previous practice. It is always necessary to rely on the natural personality of the client, to preserve and to emphasize his personality and beauty. Provide services based on traditions and best practices. The victory in these categories of course motivated us and was for us an encouragement and inspiration.
Language courses
However, we must emphasize that inspiration not only in the field of expertise but also in a different way. We have understood that the knowledge of the world language (English language) is a necessity for our further professional growth. For this reason we have passed an international English language course in Great Britain (Bristol) and Malta. Here we have acquired language skills and abilities. The English language gained us so much and in 2002 we again began to study English at the UKF in Nitra – Department of Foreign Languages, which in June 2005 successfully passed the state examination. In January 2006, we successfully vindicated rigorous exam in Pedagogy, which entitles us to use the title PaedDr.
PhD.
In May 2010 we have passed a diploma thesis (we have obtained a PhD degree). Which means that we increase our qualification to provide the best education and services.
Our premises
Our premises are furnished at a high level. With joining to the European Union we meet the criteria of the community and we are ready to provide services to foreign clients at the very highest level. Let us argue that this complex is truly representative and satisfies the demands of even the most demanding clients.
Personal improvement
In order to increase our qualifications, we are constantly conducting various conferences, internships. From 2019 we regularly attend aesthetic trainings in Israel.